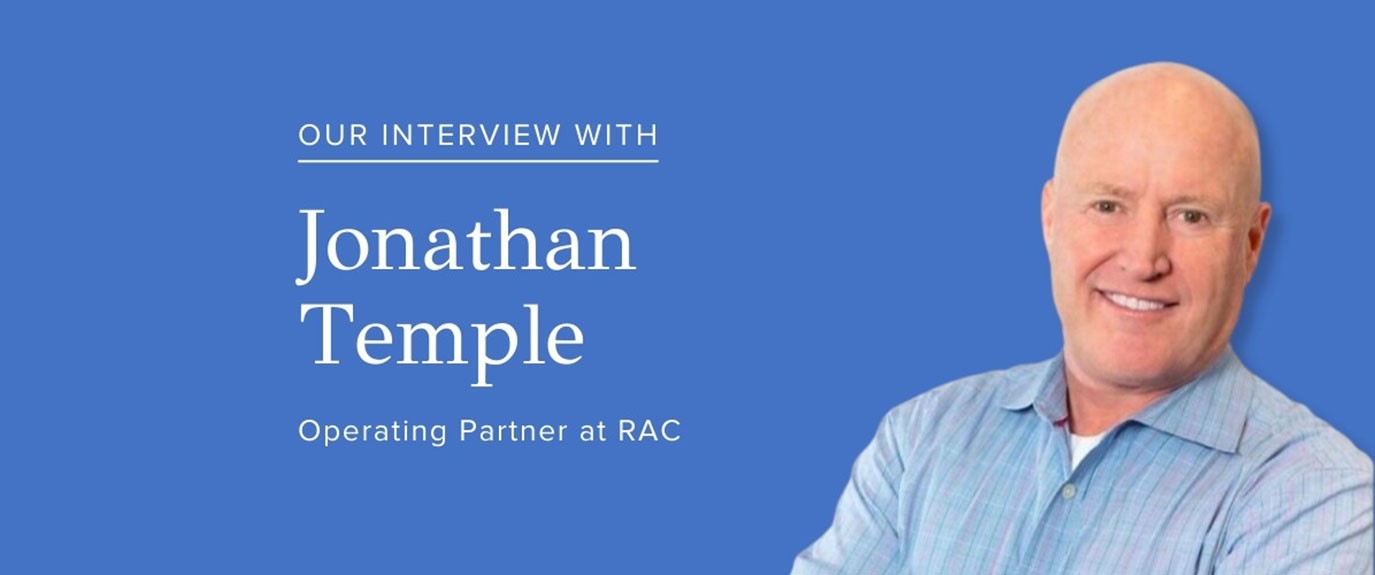 Interview with Jonathan Temple, Operating Partner at Riverside Acceleration Capital
You are an Operating Partner at Riverside Acceleration Capital. Please describe your role.
RAC was launched in 2016 to be specifically tailored to finance the next generation of B2B software company by providing flexible growth capital that is aligned with both company performance and individual capital needs. We also provide operational help and support to our portfolio companies via our Growth Advisor function, which is the team I am responsible for.
As Growth Advisors we are a team of software subject matter experts who work in conjunction with our portfolio company executives and our investment professionals to help our businesses mature and accelerate growth in a scalable and repeatable way. So, while we do get involved in helping with doing diligence prior to making an investment, most of our time is spent engaging with our companies, aligning around their growth initiatives, and supporting the operational execution of them.
You have worked over 30 years in technology, scaling enterprise software companies. Please tell us a bit about your background as an operator.
I have been with Riverside now for nearly 5 years, but prior to that you are correct, I have way too many years' experience as an operating executive and board member developing high growth private equity, venture, and publicly traded software businesses.
I grew up in the UK and started my career with Information Builders, who interestingly were just acquired in March of this year by Tibco.[1] I grew up there on the go-to-market side, honing my skills around everything to do with customer acquisition, expansion, and retention. This was back in the late 80's when the "database wars" were in full swing, with Oracle, Sybase, Informix and Ingres all slugging it out for global domination. It is clear now who came out victorious, but at the time all these companies were doing well and many of my colleagues were seduced to go and join them with the promise of being on the winning team. I, however, was more interested in building something from scratch, defining a new category and somehow "changing the world." It was then, in April of 1992, that I was introduced to a French start up that no one had ever heard of, called Business Objects.
When I saw the technology and what they were trying to do, I was blown away and joined instantly to build the organization in the UK. Fast forward nearly a decade and a half later and we had grown the business from $5m globally when I joined, to over $1B by the time I left in the middle of 2004. Along the way we took the Company public, created and defined the Business Intelligence category and more importantly helped organizations globally realize the value of leveraging data to help make more informed decisions.
It was part way through this journey, at the start of 1998, that the board of Business Objects asked me to move from London to Silicon Valley to take the reins of the US business. Like many others before me, I thought I would be here for 3 to 5 years before returning home, but fast forward 23 years and I am still here having been the CEO of 3 different software companies, and an independent board member of 5 growth stage SaaS businesses. Business Objects was ultimately acquired by SAP for $6.8B.[2] I was also at Hyperion, who got acquired by Oracle for $3.3B[3] so I guess I can say that I not only helped create the BI category, but also helped ride it off into the sunset.
What are the topics you usually work on with your portfolio companies?
I am not a fan of the prescriptive playbook that you hear so much about from some investment firms. While there are clearly commonalities, every company in our portfolio is different in some way and I believe you need to "diagnose before you prescribe." That said, all the work is done with a singular focus in mind, which is accelerating growth. Sometimes this results in us supporting very strategic projects such as helping build a complete 3-year strategic plan, helping the business enter new markets, or overhauling the company's messaging and positioning architecture. On the other hand, we also want to make sure that the growth is well managed and delivered efficiently. Consequently, we also spend a lot of our cycles working on operational excellence best practices such as aligning strategy and execution through the OKR framework, deploying company-wide KPI's, tuning organizational design, creating the right operating cadence, supporting key recruitment activities & a whole host of other initiatives. At the other end of the journey we also advise on exit readiness, investment banker selection and making sure the company attracts the best possible valuation.
What are some specific challenges you have supported portfolio companies with over the last few years?
All the activities mentioned earlier are good representations of the challenges we help solve for, but for our portfolio companies that are headquartered in Europe and Asia, on many occasions I work closely with them specifically on how to enter and capture the US market, which for any software company generally represents about 50% of the global market. Getting it right is therefore a business imperative and getting it wrong can be catastrophic. As mentioned earlier I grew up in Europe and so have a unique perspective on this via my time at Business Objects, but I was also the CEO of another European business that I relocated to Silicon Valley. These experiences combined provide a hard-to-find value-add for our international companies and is work that I have a real passion for.
How much time do executives of your portfolio companies have to invest with you in order to benefit?
There is a well-known saying; "you get out what you put in," meaning in this case that the amount of value you get out of the relationship with us as Growth Advisors depends on how much effort you choose to put into it. That does not mean that we must be involved every day, because in the end it is not our job to run the company. That said, moving some of those "big rocks" takes some up-front effort and energy, but once they are over the other side of the hill, they can roll downhill easily without us. Typically, this means we like to partner closely with our CEO's in the first 6-months or so following a new investment after which time it often moves to more of a "help-on-demand" model.
Who or which type of company can benefit most from your support and, as well, benefit the least?
I think really any Company in our portfolio can benefit in some way from a partnership with us. The only variable might be the experience of the CEO and his/her leadership team. If they have backgrounds with large technology companies and have "seen the movie" before, or they are a serial entrepreneur, then there is an argument that they can be more self-sufficient. That said, I am a great believer that it takes "many great minds to make a great company" and most great leaders I believe think the same way. This means even our most seasoned portfolio CEO's engage with us to some extent and we are delighted to help wherever we can, however big or small the ask might be.
What other resources can you deploy besides your personal time?
Aside from the direct help we provide as Growth Advisors, we also leverage the considerable resources from our parent, the Riverside Company, who as a global investment firm, has been in business for over 30 years with $10+ billion in assets under management, and 200+ professionals located across 16 offices, 11 countries, and 4 continents.[4] Getting "on-the-ground assistance" with any operational matter, in any of the major geographies around the world is simply business as usual for us.
Global footprint aside, to make the Growth Advisor function scalable across our growing portfolio we have also developed, and made available to our companies, the RAC Toolkit, which is a community of vetted experts to consult on specific functional areas such as product development, pricing, strategic planning, executive recruitment, finance, global sourcing and procurement, integration planning, sales training, IT, ERP systems selection and almost any other matter related to maturing and scaling an early-stage software business. If you need it, we generally have it. And if all of that wasn't enough, RAC companies can also benefit from receiving regular content from us focused on best practices, participation in the Riverside University education program, and being able to attend the annual Riverside leadership summit, which brings together the leaders from all our global portfolio companies for 2 days of keynote presentations, focused breakout sessions and unparalleled networking opportunities.
Is it mandatory for your portfolio companies to work with you?
We have set up the Growth Advisor function in a way that is very different to how it is done inside of the traditional private equity buyout funds, where you get the help whether you want it or not. As minority investors or lenders we cannot, and do not want to, tell our companies what to do. Participation in the program is therefore purely optional. If a company wants it, great. If not, then that is fine too. In the end I believe if the program is seen to be valuable then people will "opt in" and that is what we typically see happening.
We take this already differentiated approach to a whole new level in that no Growth Advisor can assume either a board, or board observer position within the portfolio. Our job is to advise and consult, and not to be viewed as governance and oversight. We leave this strictly to our investment team, which allows us to have thick information barriers in place, meaning we are able to foster transparent and productive hands-on working relationships with our companies.
Is it possible to get references from portfolio company executives who have worked with you in the past?
Absolutely. In the end it is all about leaving positive references in our wake. Pick one we have worked with and we would be happy to have them speak with you.
You served on the board of large enterprise software companies such as Gainsight. What are some of the learnings you took from this experience?
It was ultimately my time serving on several different boards that lead me to join RAC and to do what I am doing today. How so, you may ask? When you are an operational CEO you become somewhat myopic in that you see the world only through the eyes of your business. You are a mile deep in your market, and your company. You don't ever believe that anyone else can understand what you do, why you do it and what you are going through. Being on a variety of SaaS company boards, across a diverse range of industry segments, helped me realize that, while there are always nuances, not only are most SaaS companies more similar than they are different, but that as an experienced operator you have faced all the same challenges that they have. Ultimately my sacrifice was to make all the mistakes I could as a CEO so that the companies I work with today don't have to. Age may not be fulfilling in some regards, but when it comes to helping growth stage businesses thrive, experience is everything.
[1] TIBCO Completes Acquisition of Information Builders via TIBCO.com
[2] SAP to Acquire Business Objects in Friendly Takeover via SAP.com
[3] Oracle Buys Enterprise Performance Management Leader Hyperion via Oracle.com
[4] As of December 31, 2020
Contact Us
We love meeting new software companies, so let's talk.